Kloshe Nanich Lookout Site
Located in the Northern Olympic Mountains, with a commanding view over the Solduc Valley, Kloshe Nanich was the first known lookout building in Clallam County, and possibly the first lookout building on the Olympic Peninsula. It's location was on a 19 mile long ridgeline that to this day, has no official name. Constructed in 1917, it was a D-6 cupola cabin. When built, the lookout was in the heart of the Solduc Burn area, an area decimated by fire in 1907 (see images). The fire swept through 12,800 acres of this ridge in a single afternoon. This explains the unofficial name for the location as Burnt Mountain. Kloshe Nanich is Indian for big view, and this rocky outcrop definitely has one. A short walk north was a patrol point called North Point. Years later in 1936 or 1939 North Point would get its own fire lookout building replacing Kloshe Nanich. Kloshe Nanich lookout was destroyed in 1963.
Elevation: 3,160 feet
Distance: Drive-up
Elevation Gain: 30 feet
Access: Good gravel, narrow road, conditions could change
Washington Lookout Sites
Why So Many Names
Because the lookout was placed on a mountain with no name, I believe the lookout was referenced by media and locals by numerous names. The lookout was a first in the region, it was big news and reporters in newspapers had to describe the location. Some said it was on Burnt Mountain, others said it was on Mt. Muller since Muller is part of the same mountain, while another called it Solduc Mountain, where no Solduc Mountain even exists. Even today, hikers have no way of easily describing the location when they visit Kloshe Nanich. Many lookout lists still show Mt. Muller and Solduc as being lookouts, yet their locations are described as unknown. I will be happy to be proven wrong but I am quite sure these sites are ALL in reference to Kloshe Nanish based on the numerous sources being found as reports and new articles are digitized and becoming available online. Kloshe Nanish was a decade before any other lookout building in Clallam County. It is not likely there were several other lookouts all nearby covering the same terrain, all established in 1917, all 10 years before any other was built, all being described in newspapers at the same time.
Kloshe Nanich
The 13th Annual Report of the Washington Forest Fire Association says:
1920: "We assisted in payment of a watchman on the Klosh Nanitch lookout in western Clallam County."
Soleduc
The 12th Annual Report of the Washington Forest Fire Association said in 1919: "We participated with the State, the Forest Service, the Clallam Lumber Co., and the Spruce Production Corporation in the construction of a lookout house on Solduc mountain in western Clallam County. A temporary lookout has been maintained on this mountain for two years past and the watchman has been so successful in detecting fires, and the range of vision from this point covers such a large tract of valuable timber in which the fire hazard has been steadily increasing, that we felt justified in making it a permanent station." (Note that construction 2 years prior would match Kloshe Nanitch Lookout in 1917. Also, the private companies owned lands within view of Kloshe Nanitch).
Mt. Muller
We read in the Tacoma Times on August 1, 1917 "State installs a fire lookout station on Muller Mountain in Clallam County" The 11th Annual Report of the Washington Forest Fire Association said in 1918, "We paid a part of the salary of the lookout stationed on Mt. Mueller in Western Clallam County." (Kloshe Nanitch is a few miles west of Mt. Muller but technically still part of the same mountain).
Burnt Mountain
The Division of Forestry Annual Report in 1918 said, "Burnt Mountain lookout in Township 30 north, Range 11 West, Clallam county, was established in 1917. It was constructed and equipped with telephone communication at the joint expense of the federal forest service, the association and the Clallam Lumber Company, the State and Weeks Law fund providing for the lookout watchman's salary. This lookout commands a view of the Solduc, Calawab, Twin, Hoko and Physt valleys, and being located where dense smoke seldom prevails, its effectiveness and reliability is greater than lookouts located further inland." (The report had a photograph of Klosh Nanitch Lookout with it labeled, "Klosh Nanitch Lookout on Burnt Mountain in the Solduc Burn".
Short Lived Interpretive Center
In 1995, a reconstruction of the D-6 cupola was made possible by a grant from the ITT Rayonier Foundation, grants from the Washington State's Interagency Committee for Outdoor Recreation (IAC) and the Forest Service. A year later it had to be re-built for better handicap access, hence the wide paved trail accessing the platform. The building was never staffed well or maintained and was consistently vandalized. In 2013 the USFS determined it was unsafe and a public nuisance, and had it removed. Luckily, they left the platform which makes for a very nice viewing area.
Access
From Forks, take Highway 101 for 20 miles or around 10 miles west from Lake Crescent. Turn north onto West Snider Road and follow for about 0.5 paved miles to the Snider Work Center. Drive behind the work center to find Forest Service Road 3041. Follow this road to the lookout avoiding just a few spur roads. This road is a one-lane fairly maintained gravel and dirt road that the average car could drive but it is not advised by the local forest service.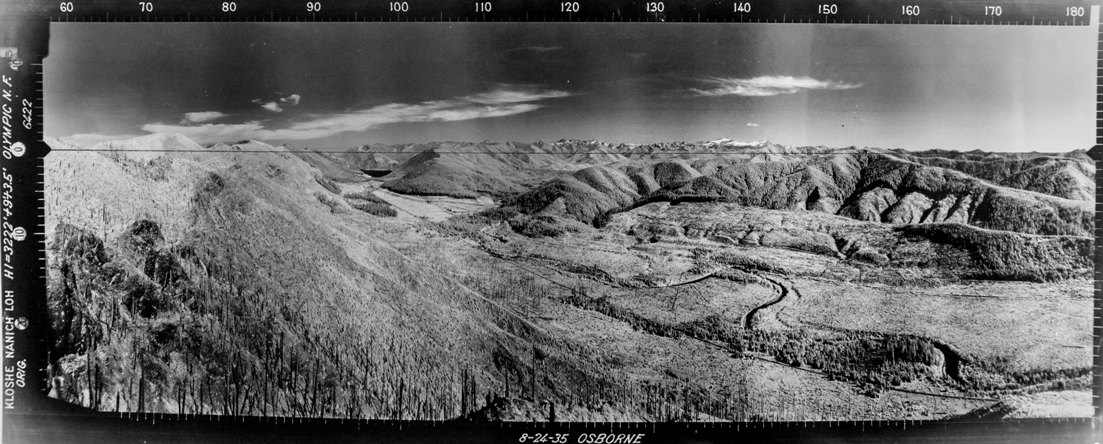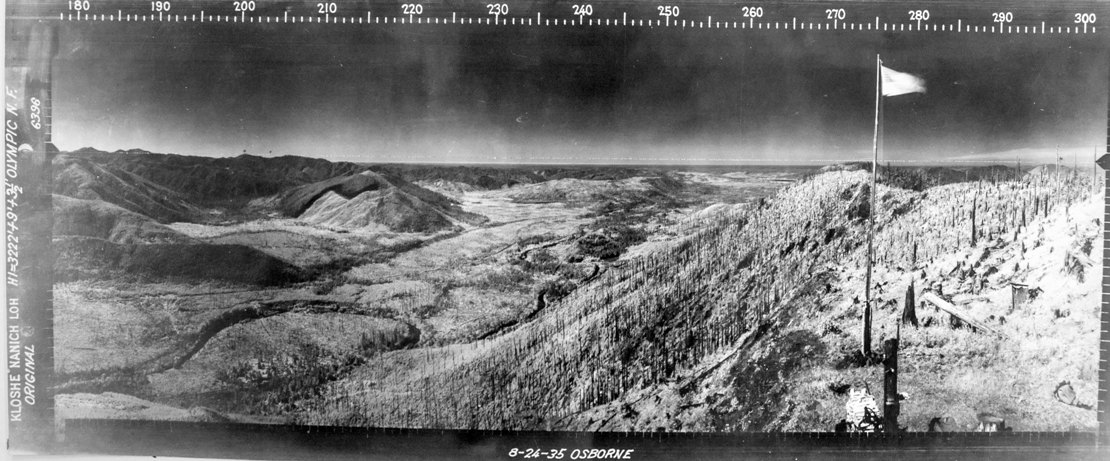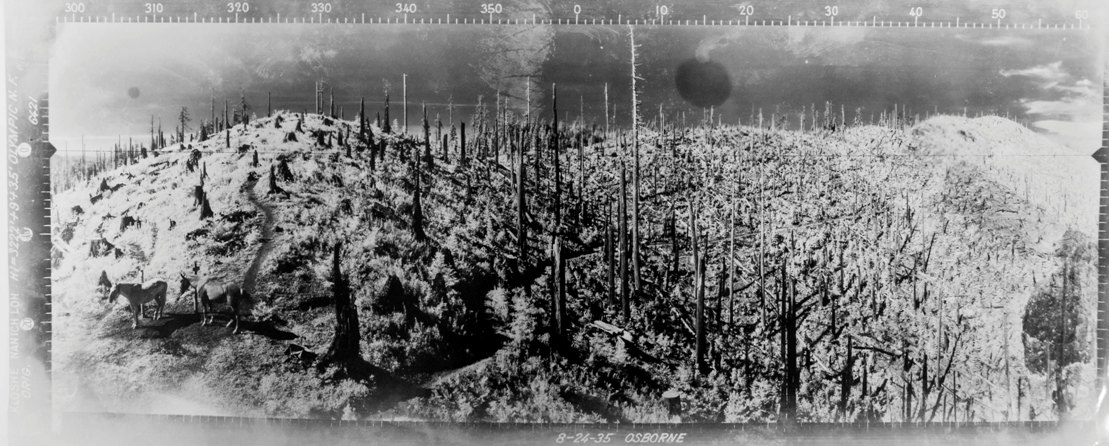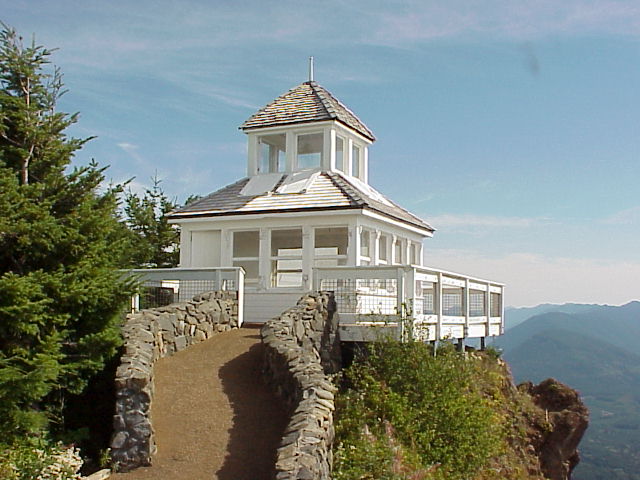 Image from the 1918 report to the State forester saying the Kloshe Nanich Lookout is on Burnt Mountain. Text on right from the same 1918 Forestry Report



Tacoma Times - August 1, 1917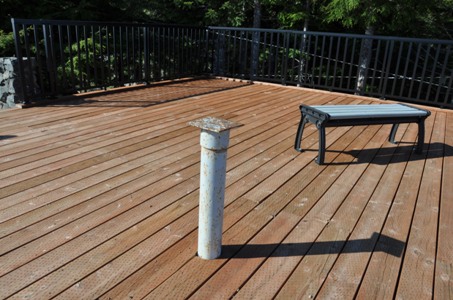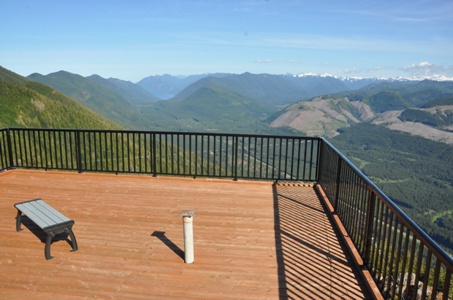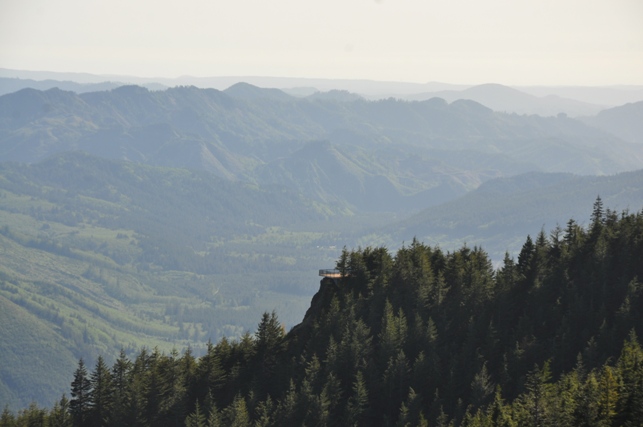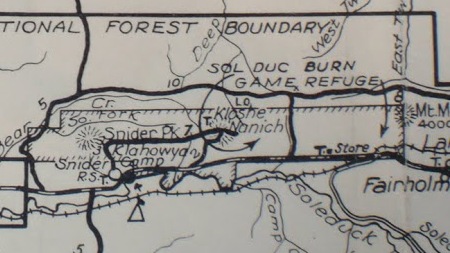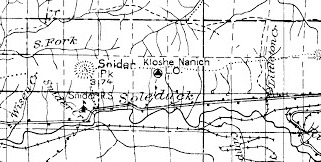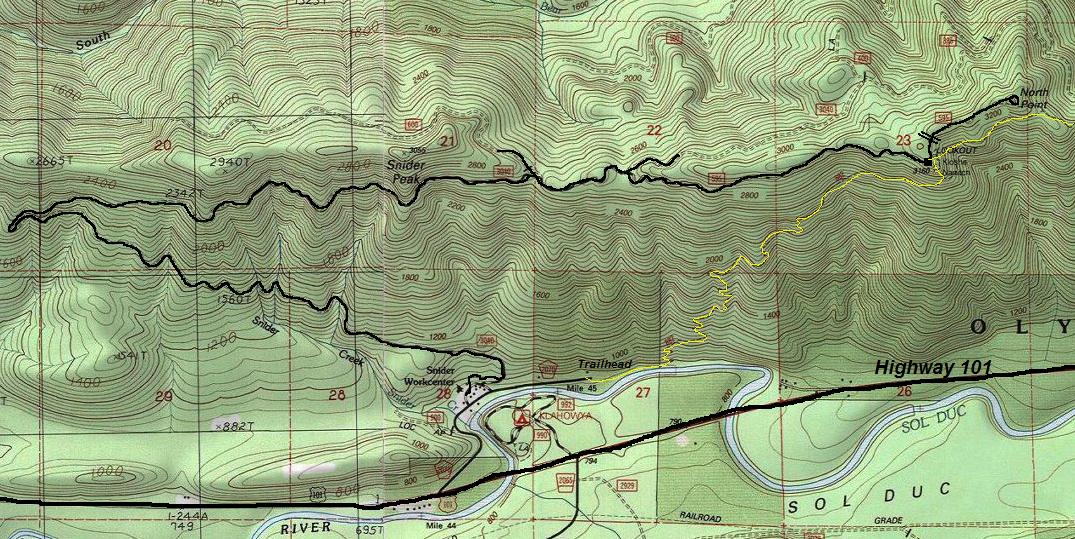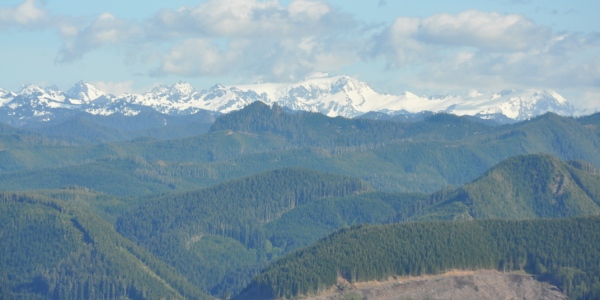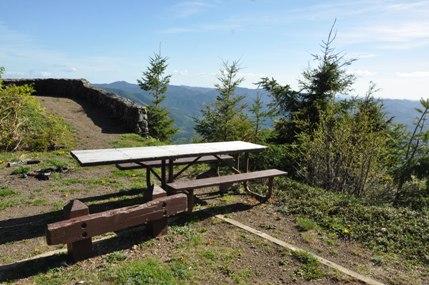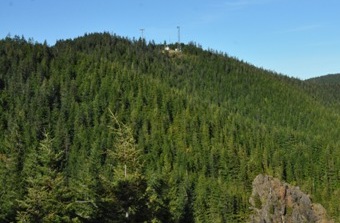 1935 view to the Kloshe Nanish North Point Patrol Point, later to get a lookout building
2016 view from Kloshe Nanish to North Point Lookout
North Point
Southwest 8-24-1935
Southeast 8-24-1935
Southwest 4-30-2016
Southeast 4-30-2016
Have a picnic with a view
Mount Olympus
Kloshe Nanish platform from North Point Lookout site
Kloshe Nanish reconstruction interpretive center, removed in 2013
Viewing area
Path to the lookout site
Above: 1933 Olympic National Forest Map Below: 1932 Olympic Trails Map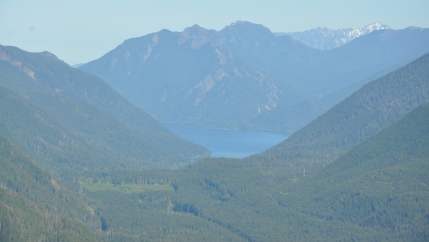 Lake Crescent