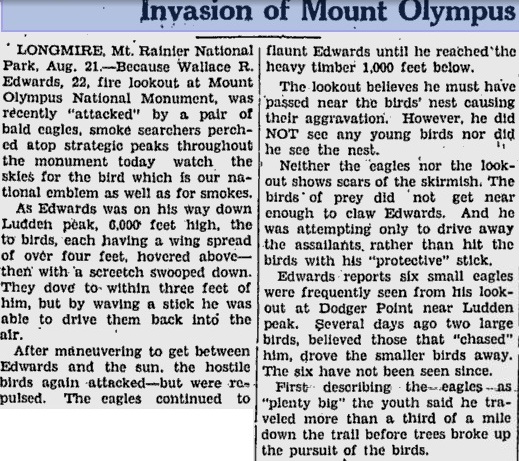 Dodger Point Lookout
Dodger Point was named after Doger Bender, who did trail and telephone maintenance and construction for the Forest Service. Two trails reach the location; the most accessible is Long Ridge. Although this appropriate name fits the long 10 mile ridge trail, it was actually named for Frank Long, an 1890 settler in the Elwha Valley. Few would venture up the ridge if it wasn't for the fire lookout perched on the summit. The grade on most of the trail once up on the ridge is extremely gentle, making for easy walking for the legs.
Lookout History
The materials were packed by horses to the summit for the construction in 1933 of this L-4 cab. With the help of many, including Julian McCabe, the building stood five years prior to the designation of Olympic National Park, when it was still Mount Olympus National Monument. McCabe recalled getting caught in a late September blizzard with little food: "We had some rice and ….I threw rocks and I hit a grouse. That rice and grouse, boy, did it ever taste good!" In July of 1936, panoramic photos were taken from the roof by Lester Moe (see below). During WWII, it was used as an Aircraft Warning Service station. Today, it is still the original cabin, but use is only for emergency purposes. The AWS Lookouts in 1943 were Leith and Mary Johnson. They tell the story that when a pack train with their summer supplies was coming up the trail 3 miles short of the lookout, one of the horses bumped his pack on the steep side slope. It threw him off balance, and he rolled 200 feet over the side. The packer went down and led the horse back up but declared that was as far as the pack train would go. The Johnsons continued on foot. During the next month, Leith hiked six-miles every day to retrieve all the supplies.
Access
Take Highway 101 west from Port Angeles to the signed left turn to the Elwha Valley. Once in the National Park, look for the signed road to the left for Whiskey Bend Trailhead. Follow this nice gravel road 5 miles to the parking area.

Elevation: 5,760 feet
Distance: 28 miles RT
Elevation Gain: Over 5,000 feet
Access: Good gravel
Route
Follow the Elwha Valley Trail to Michaels Ranch cabin. At the Y, go right. Shortly after, go left. Follow any signs pointing to Dodger Point. Soon cross the Elwha River on a high bridge. Shortly after the bridge is another Y, go left and you are now on a 10 mile trail to the top. Just before the summit, a meadow and some camps are reached. A spur trail goes up to the top. In early season with snow, you may need to just find your own way.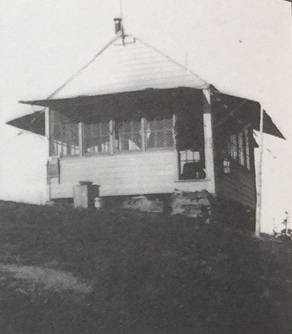 Olympic National Park
Air Warning Service Station "Charlie 0-8" in Olympic National Park using existing structure. No AWS expenditures were incurred. Last day of service was October 5, 1942, the site was retained by the Park Service. (from Report of AWS Stations, May 1, 1944)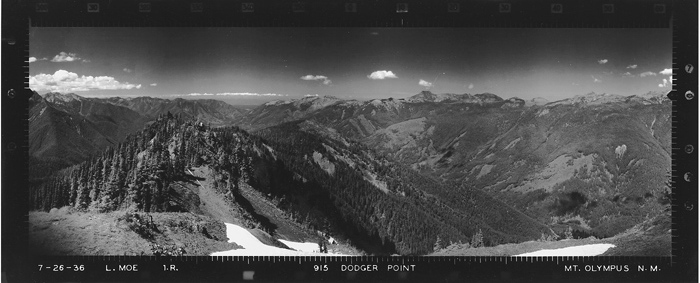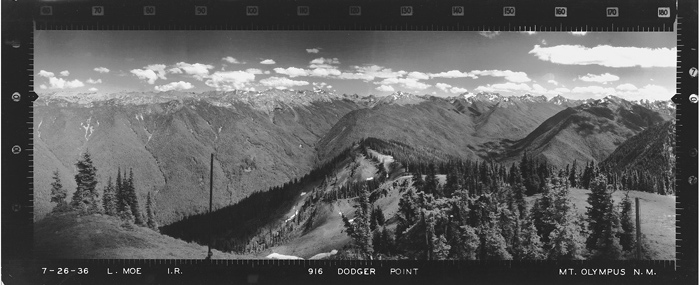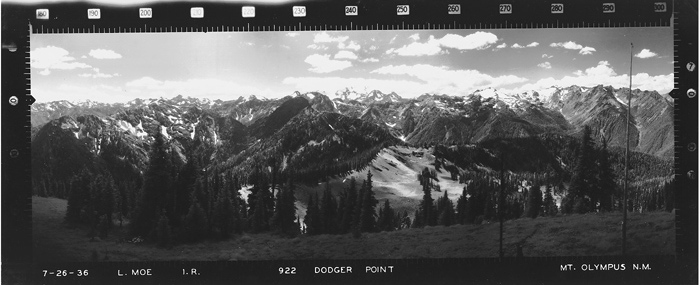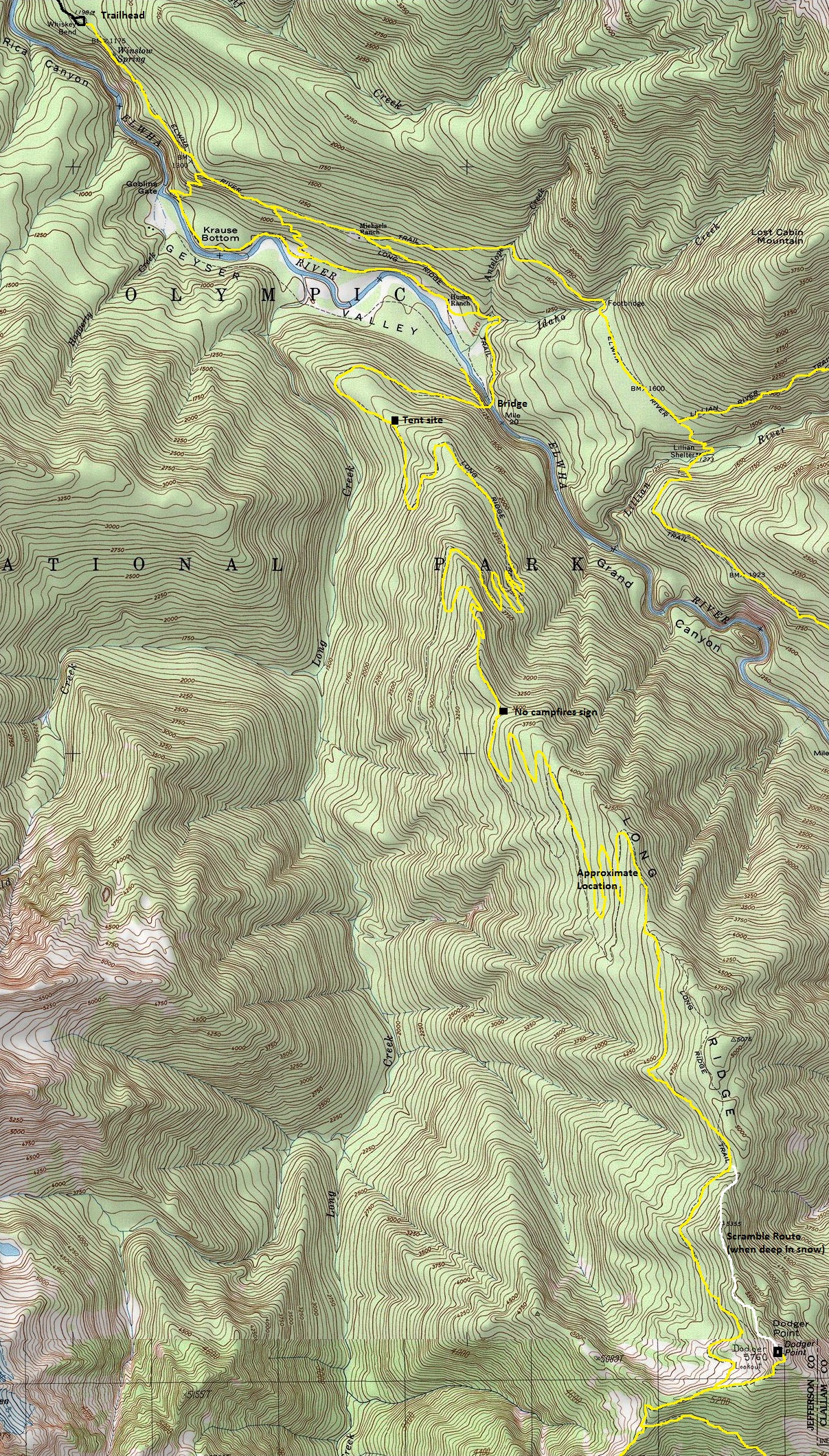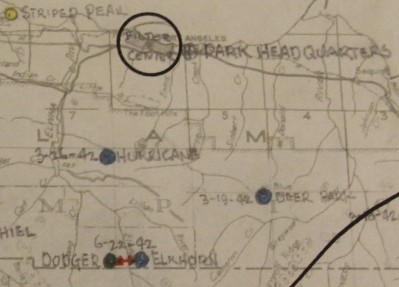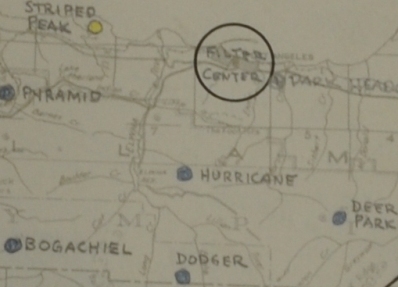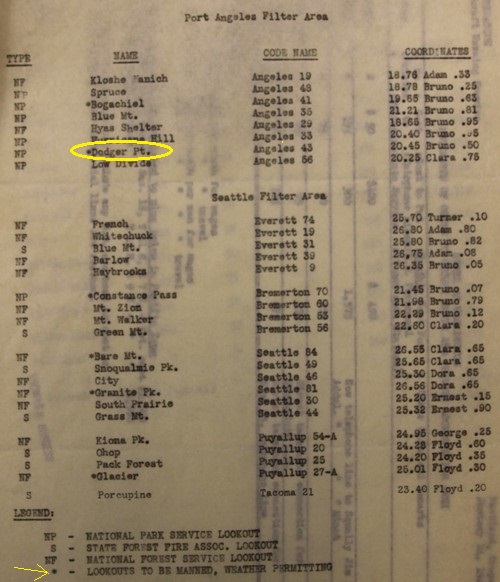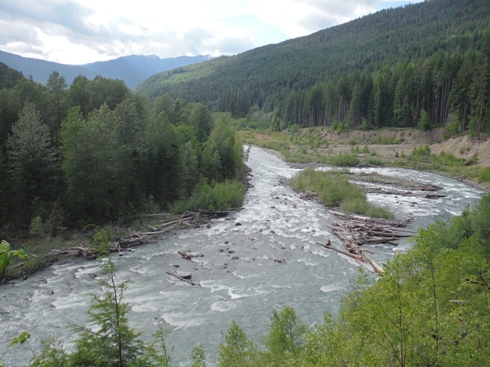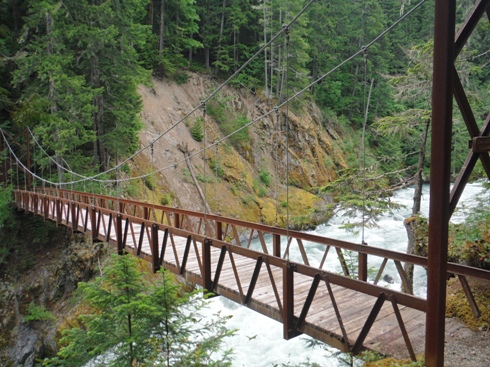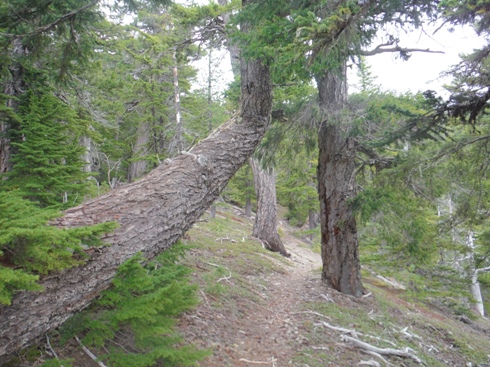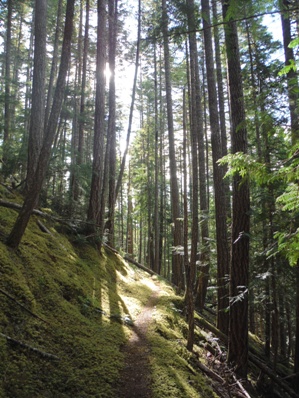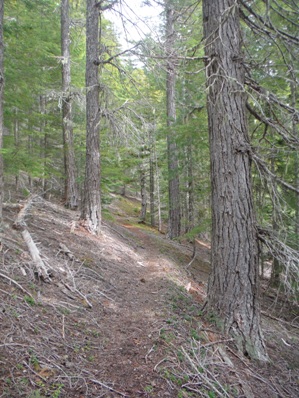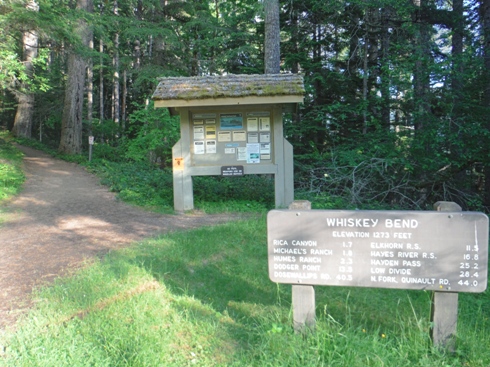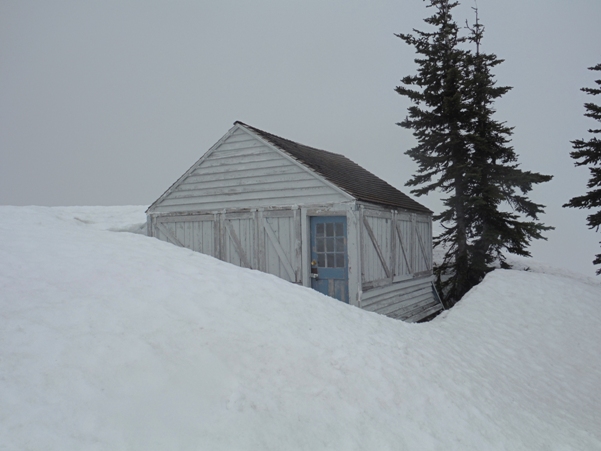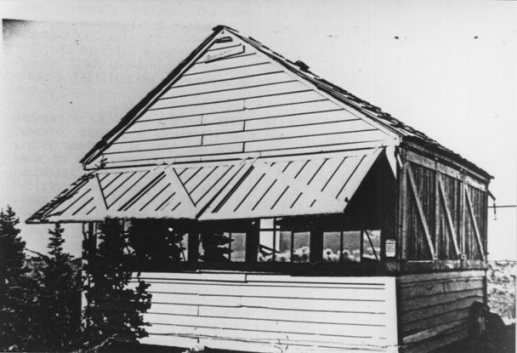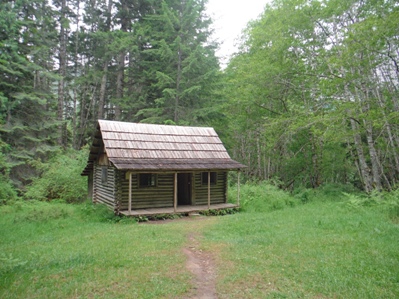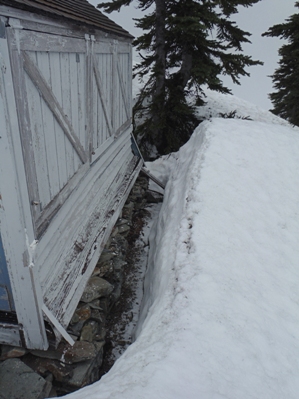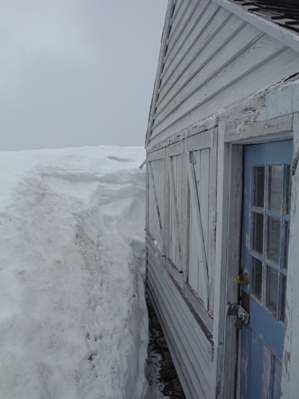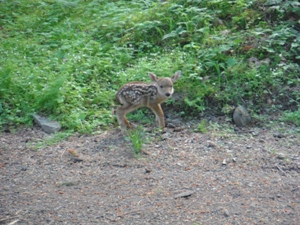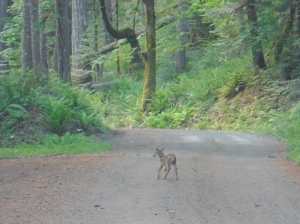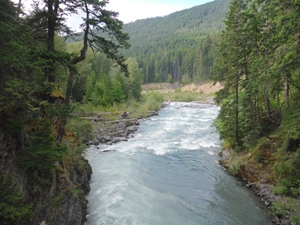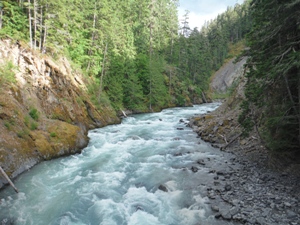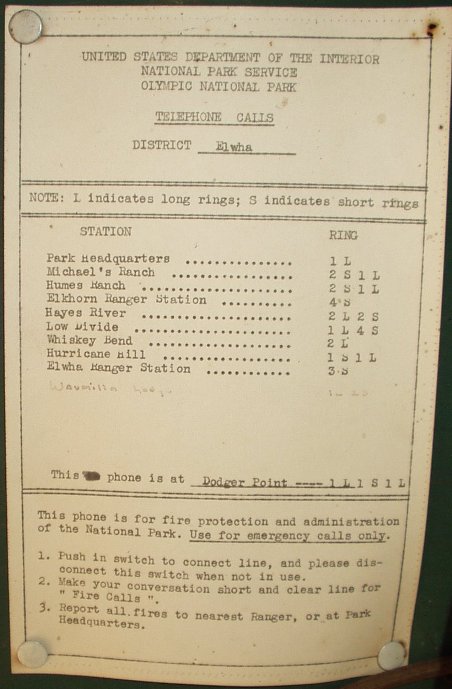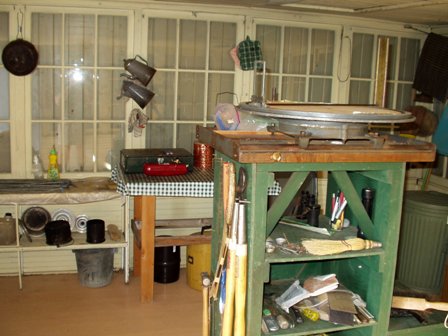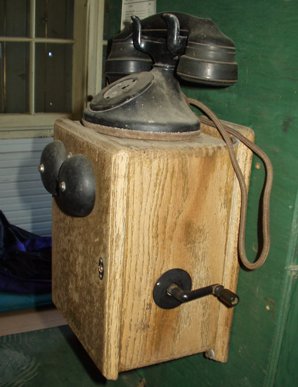 Long Ridge Trail
Long Ridge Trail
Dodger Point Lookout - June 10, 2017 (a big snow year)
Long Ridge Trail
Elwha River Bridge
Elwha River viewpoint shortly before the bridge
Whiskey Bend trailhead
Lookouts to be manned by AWS
Turn right at Michaels Ranch cabin
Telephone poster in the cabin
Above & below: AWS maps (in winter, station moved down to Elkhorn)
North
Southeast
Southwest
Dodger Point Lookout in the 1940s
Newspaper article in 1935
Dodger Point 1933
Inside the lookout
Telephone in the lookout
Down river from Elwha Bridge
Up river from Elwha Bridge
Newborn crossing the road
Just starting to walk