Snoquera AWS
Camp Snoquera was a Civilian Conservation Corps (CCC) base camp during the 1930s and 1940s. Many roads and structures in Mount Rainier National Park and the National Forest were built by men from this camp. The men serving in the camp dubbed it "Snoquera," a combination of Snoqualmie and the Employment Recover Act (ERA) that paid their wages. During WWII, the Aircraft Warning Service used one structure during the winter as living quarters for spotting aircraft. Just after the war, in 1946, Henry J. Sheppard leased the land from the federal government for use as a Boy Scout camp. In 1952 the lease was transferred to the Seattle Area Council, and in 1954, Camp Snoquera was renamed Camp Sheppard in honor of Mr. Sheppard. Chief Seattle Council still operates the camp for scouts and rental services. At least one structure, the Trading Post/Craft Lodge remains from the CCC days.
Location: NE1/4, Section 20, Township 18 North, Range 10 West
Ownership at time: United States Forest Service
Aircraft Warning Service - Washington State
AWS map showing summer at Suntop and winter at Snoquera
Unfortunately Mr. Carroll did not see very much of the White River area on account of fog, and it is understood that he has not made a definite recommendation. I have been to both at Snoquera and the suggested post on the Corral Pass Road. There is no question in my mind but that the location on the Corral Pass Road is somewhat better, because Snoquera is down in a hole. However, the valley at this point (Snoquera) is broad, there is good vision up and down, and the top of Suntop is visible, which gives vision of about two miles to the west 5 or 6 miles up and down the river.

We have been forced to use or NDFF crews to build the A.W.S. telephone lines and other improvements. We simply have not been able to secure labor. If it were not for the fact that Mr. Gouchnour (carpenter) has put in several years with the Service and wishes to continue as long as possible on account of retirement features, he would not be working with us. He has been offered considerably more wages to do work in North Bend, hwere he could live at home. Therefore, we should limit the amount of improvement work to that which we can get done with a few guards that will stay with us. It will take a minimum of work to repair the buildings at Snoquera and the telephone line is already connected. We plan to occupy Suntop just as late as possible and then would like permission to bring Suntop down to Snoquera, where I believe this station will give satisfactory service. This was previously discussed with the Army one day when I was over with Mr. Merritt and they agreed informally that this would be satisfactory.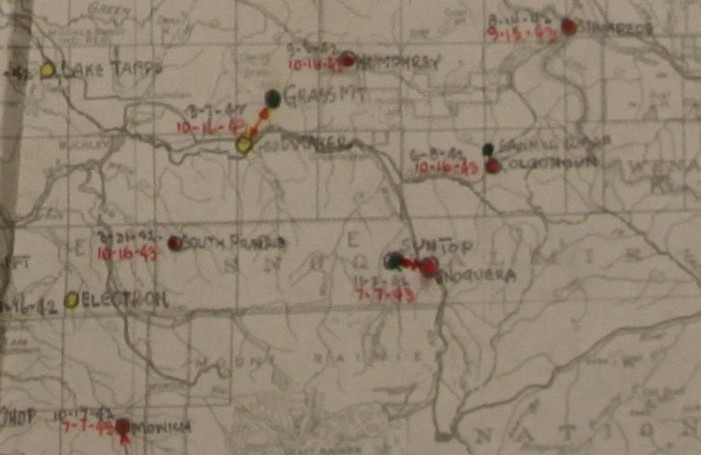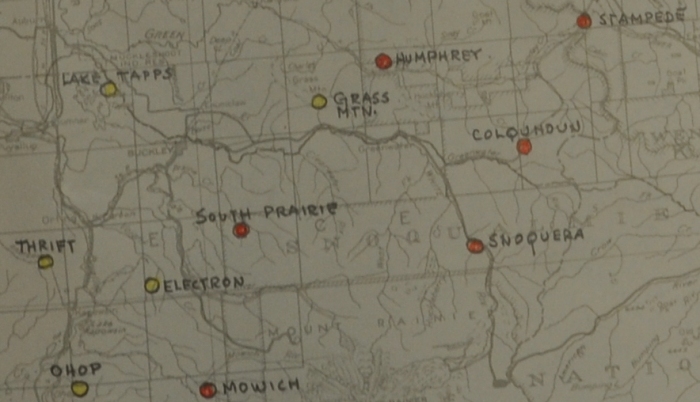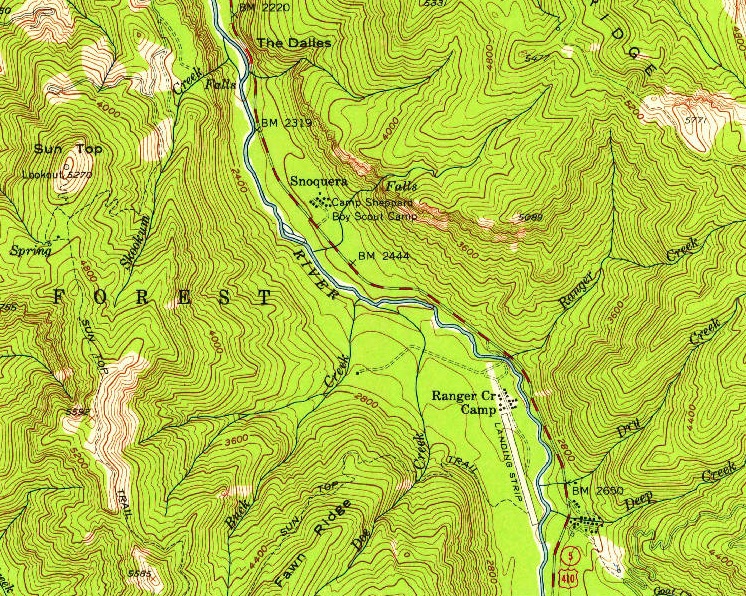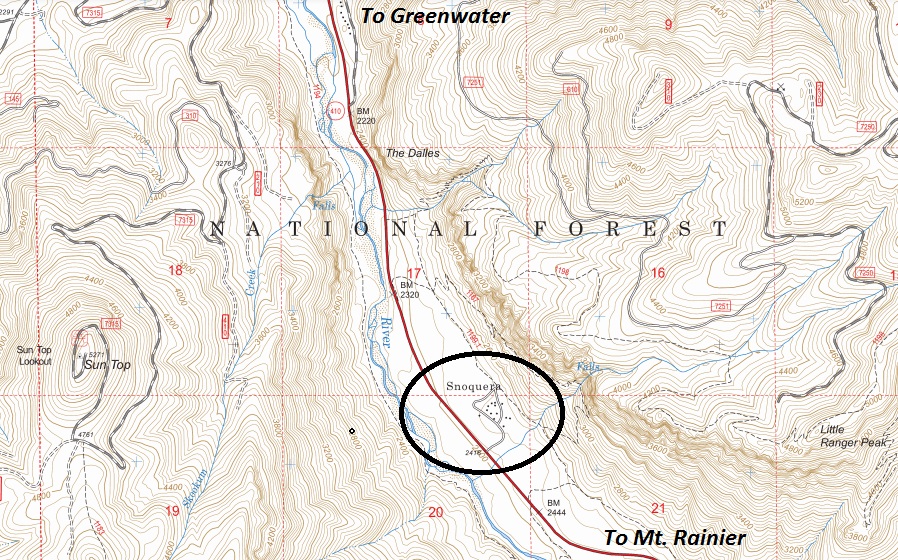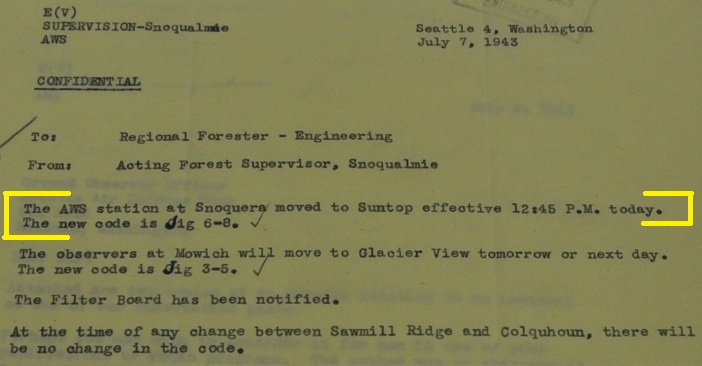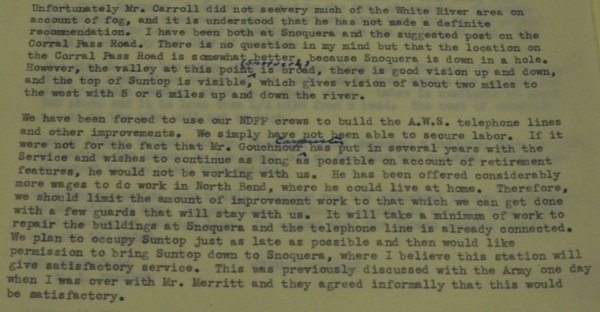 August 31, 1942 memo
AWS map showing Snoquera
Sept. 3, 1942 memo
The AWS station at Snoquera was moved to Suntop on July 7 after the snow melted enough to get them up there.
New code names
Forest Service phone line went from Snoquera to Enumclaw
1950s Map
Forest Service Map Today
Snoquera in Snoqualmie National Forest on National Forest Land - Existing Station - Winterized - Retain for Forest Service - Inactivated 10/16/1943 - No AWS involved
Snoquera - NE1/4 Sec. 20, Township 18 North, Range 10 East