DuPont History Museum
Few other cities in Washington have as much prurient history to all Washingtonians as DuPont. The DuPont History Museum is designed to save this history and bring it back to our attention. Here you will discover the history of Native Americans, the Hudson Bay Company Fur Traders, Missionaries and DuPont explosive workers, all through the Museum's interpretive displays, photos and artifacts.
WillhiteWeb.com - DuPont
The DuPont Company narrow-gauge locomotives and cars delivered materials and explosives between the old DuPont Powderworks Plant and Puget Sound. The DuPont Company sold the plant and surrounding property in 1977 to Weyerhaeuser. The fleet of locomotives, flat bed and boxcars were included with the sale. In the 80s, Weyerhaeuser gifted a 1941 Plymouth 12-ton engine to the museum.
In the mid 1930s the DuPont Company planted Japanese Cherry Trees down Barksdale Avenue and around area parks. The village ladies began hosting an annual Cherry Blossom Tea at the Clubhouse some time in the 40s to celebrate the beautiful blossoms, which were a welcoming site to rain-weary residents.
Old Fort Nisqually
The birthplace of Washington. Restoration of old Fort Nisqually is located at Point Defiance Park in Tacoma. But it was here that the following happened:
First white settlement on Puget Sound.
First American home north of Columbia River.
First white couple married on Puget Sound.
First white child born on Puget Sound.
The Methodist Episcopal Mission House was first to offer religious instruction to the Indians on Puget Sound.
First commercial enterprise on Puget Sound.
First steamship on Puget Sound worked from this Fort.
First cattle, sheep and chickens raised on Puget Sound.
Old Fort Nisqually was the halfway house between the Columbia and Fraser Rivers.
Oldest building on Puget Sound is still standing.
In 1841, first 4th of July celebration.
First murder trial on Puget Sound result of incident here.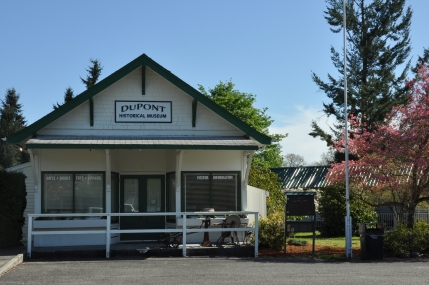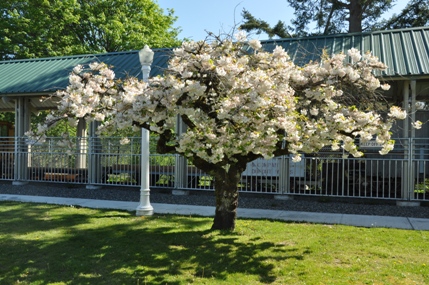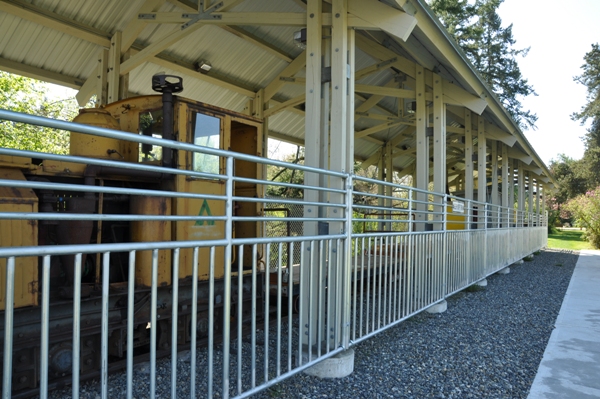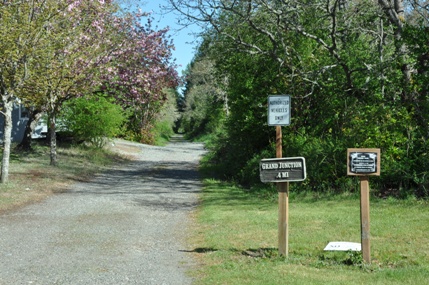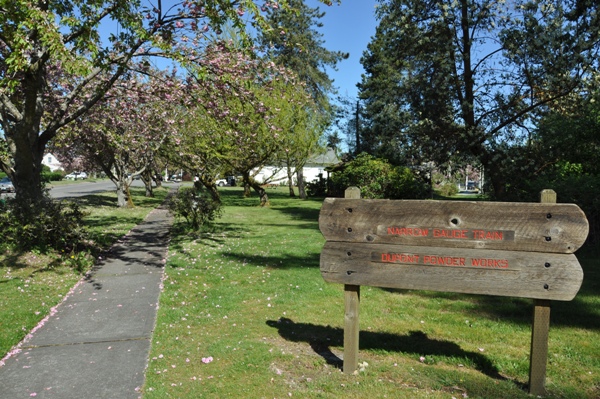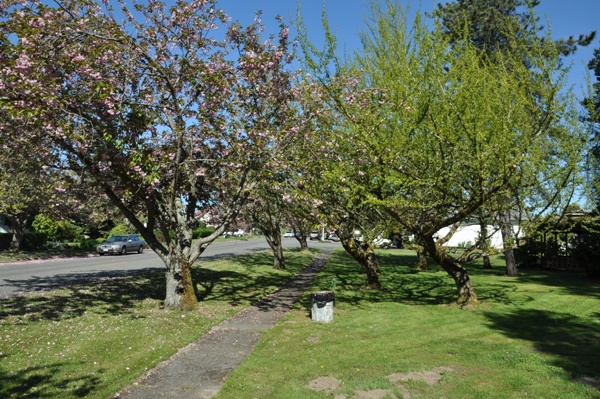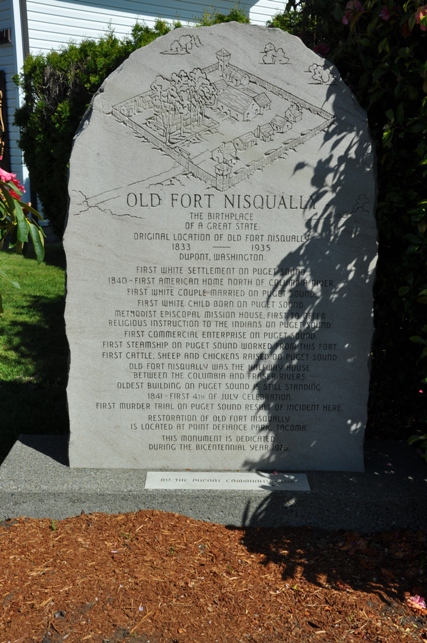 Grand Junction Trail leaves from the museum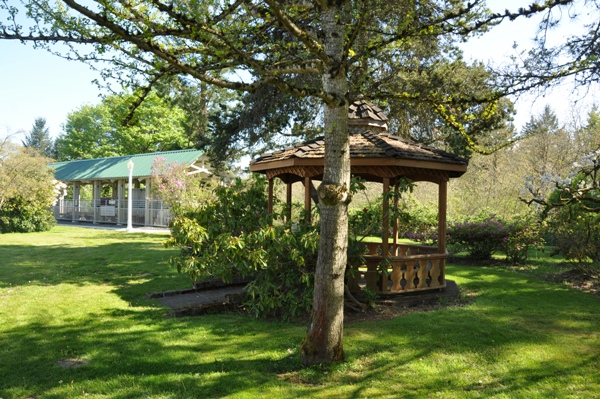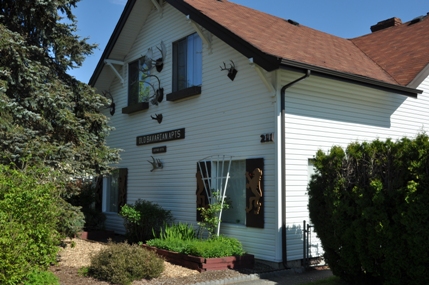 More cherry trees
Sidewalk by the museum
DuPont Historical Museum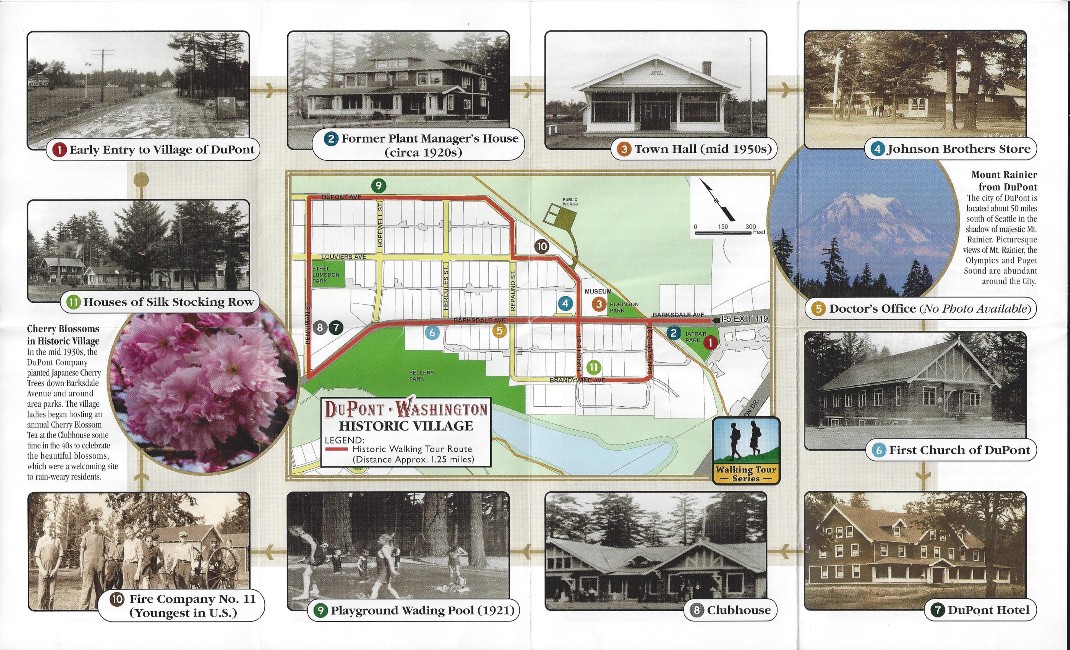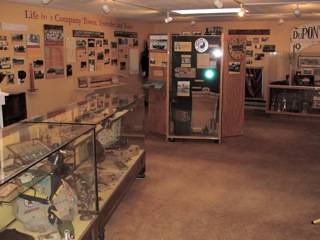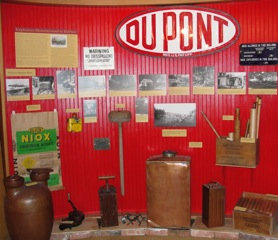 Pictures from inside the museum
Old Bavarian Apts.
Below: Walking tour map for Historic Downtown DuPont
Gazebo at the Harry L. Robinson Park next to the museum