Weatherwax Ridge & Lookout Site
Weatherwax Ridge is one of the southern edge guardians of the Olympics. It is the first to rise abruptly from the miles and miles of low-elevation timberlands. The ridge has communication towers on one point while a fire lookout once was located at another point. The ridge holds some significance to peakbaggers with 1,700 feet of prominence making it the most prominent peak in Grays Harbor County. The ridge is also a dividing line between public and private. The south side is the start of private lands extending south to the Columbia River. The north side of Weatherwax is the start of Olympic National Forest, with a second growth forest being left to mature to old-growth now that the Forest Service is out of the lumber business.
Elevation: 2,680 feet
Distance: 1.3 miles
Elevation Gain: 600 feet
Access: Dirt & gravel, likely overgrown
Washington Lookout Sites
Access
From Montesano, take the Wynoochee Valley Road for around 32 miles to the turn for Wynoochee Lake. Continue a bit further, taking a right onto Forest Road 23. Drive 0.8 miles to a Y, go right and in 0.1 miles, a minor road is on the right (FS 2371). This route up on Forest Service land is no longer the route to get to the communication towers. Driving up, it appears little brush maintenance has been done in years. I wouldn't be surprised if this road is fully overgrown in a few years, even though the road tread is good enough for a passenger car. In 2016 my vehicle was heavily scraping alders on both sides most of the way. A gate has been installed at the 200 road to keep people from accessing the highest ridge. This route will no good if the road up overgrows.
Route
The 200 road behind the gate up to the summit ridge was still bikeable in 2016, but won't be for long. Once on the summit ridge, a well used road is reached. Go left up a hill and find the abandoned road up to the lookout site. It is full of blowdown, so going up the forested north side can be easier.
Lookout History
In the mid-1940s, a tree was being used as an emergency lookout. In 1956, the Forestry division reported a ""Standard lookout station consisting of a forty foot tower mounted by a 14'x14' cabin on top was constructed at Weatherwax in Grays Harbor County. The cabin is of the new design developed by the Division of Forestry, are built of plywood and glass with an aluminum roof which overhangs the building to act as a sun shade." This lookout was removed in 1968. No views until the next harvest. Weatherwax Ridge is named after John M. Weatherwax, an Aberdeen pioneer during the 1880. He built a successful lumber mill and other buildings in Aberdeen.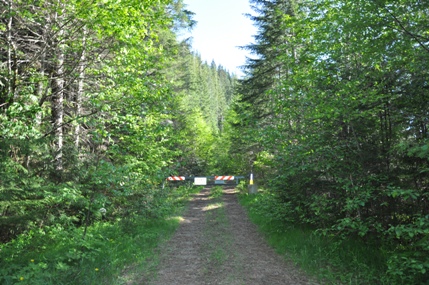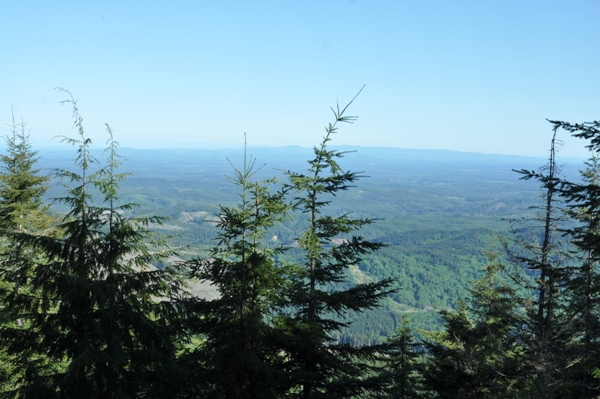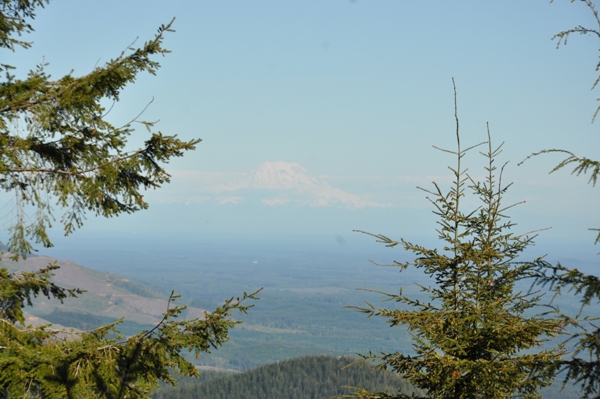 200 road gate
Turn for the final abandoned road to summit
Lookout site 2016
Views blocked
Lookout site 2016
View south can be found behind some of the summit trees
Mount Rainier view